Discover GENERATION QI: The International Quantum Information Technology Summer School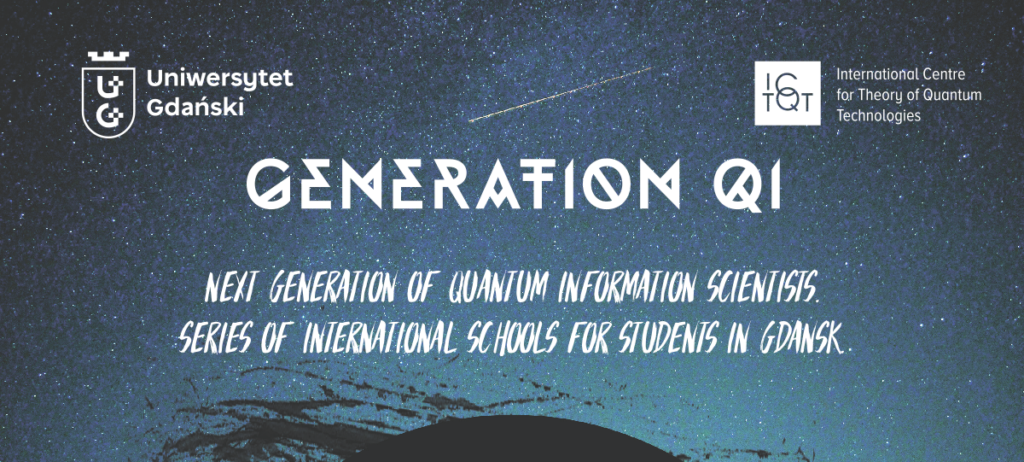 GENERATION QI is a series of international summer schools for students that focus on quantum information technology. The programme is organized by the Faculty of Mathematics, Physics, and Informatics of the University of Gdańsk. Its purpose is to promote and increase knowledge of the foundations of quantum information theory among foreign students, as well as to present the achievements of the Gdańsk school of quantum information science and to spread knowledge of Polish culture.
The International Centre for Theory of Quantum Technologies (ICTQT) at the University of Gdańsk is currently one of the leading centers in the theory of quantum technologies research worldwide.
What is the schedule for GENERATION QI?
The programme for GENERATION QI is a 2-week programme that includes lectures, workshops/classes, and meetings with the most talented quantum scientists worldwide. It also includes activities promoting Polish culture. There will be two summer schools in 2023. First one in July: QUANTUM CRYPTOGRAPHY hosted by Prof. Karol Horodecki and Prof. Marcin Pawłowski, and second one in August: PICTURING QUANTUM WEIRDNESS hosted by Prof. Ana Belen Sainz, Dr John Selby and Prof. Bob Coecke.
Who can apply for the programme?
Foreign students from all over the world who have completed at least 1 year of studies in a Bachelor's programme in one of the following fields of science: physics, mathematics, computer science, chemistry, and technical science can apply for the programme.
What is the deadline for applications?
The application deadline will be published on the Project's website, and there is a separate recruitment process for each school. The recruitment procedure is free-of-charge.
How are the participants selected?
The selection of the Project participants will be made on the basis of several criteria, including meeting the formal requirements, the candidate's achievements related to the subject of the school, content of the tutor's/lecturer's recommendations, and relevance of the field of study. The recruitment committee may also decide on interviews with candidates.
What are the regulations for participation in the programme?
There is no fee to participate in the programme. The support provided within the framework of the Project includes participation in a specialist programme offering classes conducted in hybrid mode, workshop sessions on Polish culture and Polish business history, and reimbursement of travel and accommodation expenses for on-site participants. The expenses (up to a certain amount depending on the region of the world) for travel costs (return air or rail ticket), meals, and accommodation will be covered.
Overall, GENERATION QI is a unique opportunity for foreign students to learn about the future-focused field of science and technology from research-active scientists who are leading experts in their fields.